Ray Tracer Assignment 1:


First Sphere: Translation(0.0, 2.0, 1.5), Size 1.0, Tesselation 50.
Second Sphere: Translation(1.0, 1.25, 1.25), Size .75, Tesselation 50.
Floor: Corners(X,Z)(All Y values are 0): (-2, 6), (5, 6), (5, -8), (-2, -8)
Default Camera Matrix: (0.0, 2.0, 8.0, 0.0, 0.0, 0.0, 0.0, 1.0, 0.0)
Default Light Position: (0.0, 5.0, -5.0, 1.0)
Ray Tracer Assignment 2:
Suffice to say this hasn't gone exactly as well as planned, here are the results of the program, hopefully it will be working soon.


The oddity of the spheres isn't neccecarily a bug, since as I have it set up, they do overlap in some areas. The floor, or should I say wall, however, isn't working as intended.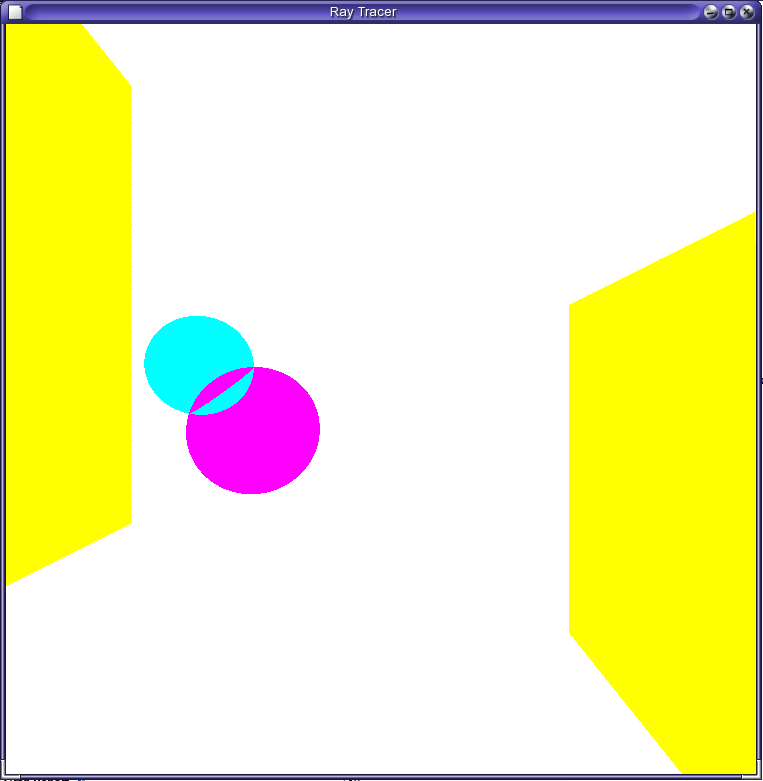 This one is the same image taken from a different position. I changed the Z coordinate of the camera, so the picture looks inverted for that reason. The floors also look different.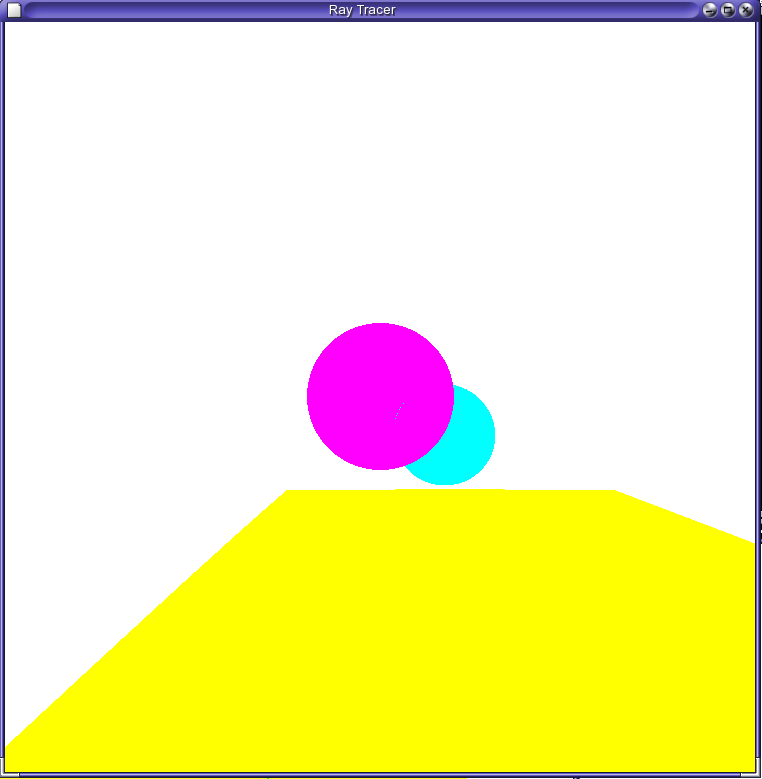 Finally! I have the image that I was supposed to have ready for checkpoint 2 ready! However, I now have approx 6 hours to complete the phong shader for this assignment. :/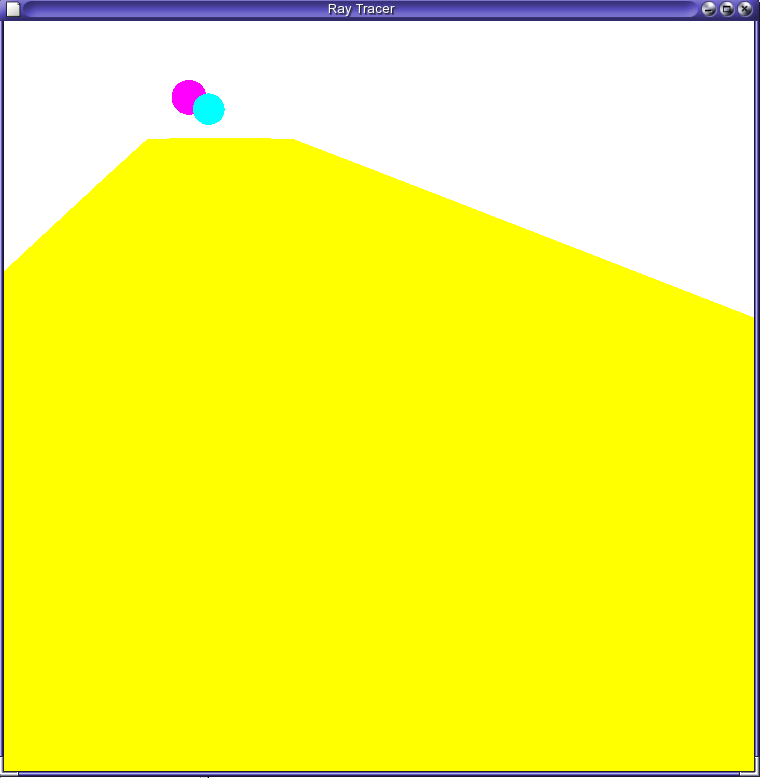 Though, I do at least have a semi-dynamic camera working. This one is taken from the other side of the Z axis, as well as having a vastly different lookat location.


Partially done with the shader, woo-hoo!


The shader is at least part working, the above image is taken with a non-standard location and light position. I think it came out nicely.


This is the result of my procedural texturer. The program supports others, they can be toggled by pressing the 't' key. Perhaps I'll add an option to texture the spheres too... if time permits.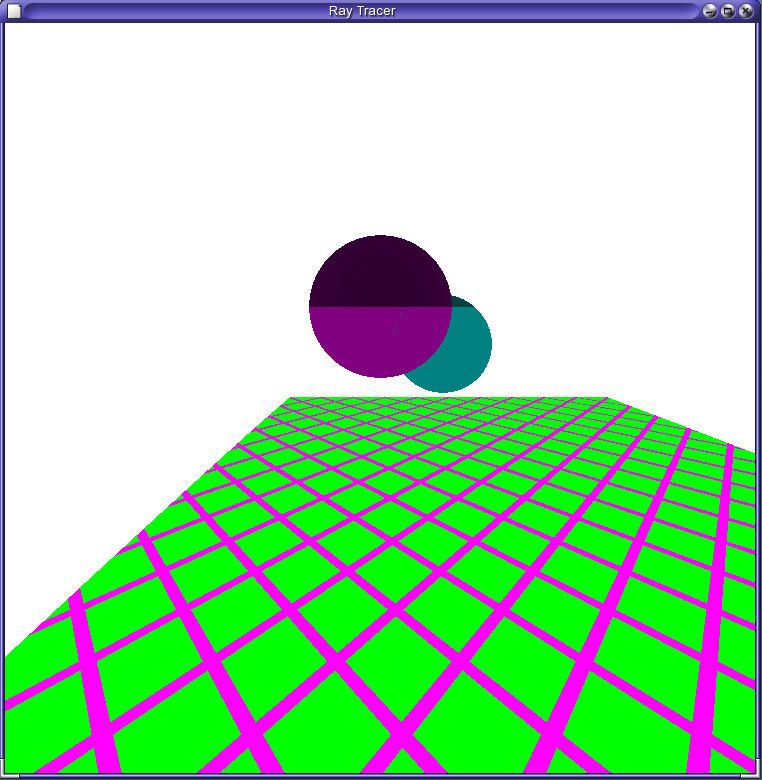 I finally have the phong model working. The light source can move around as well. Below is a screenshot of the standard lighting position and intensity and standard camera position. Also note that I made some minor changes overall.


Nonstandard lighting position, higher light intensity.


Below is a nonstandard camera position with a negative light intensity. (yes, you can do that with this program.) The parts that wouldn't be illuminated are illuminated by this intensity and the stuff that's normally illuminated is dark. Somehow this doesn't seem physically possible, but eh, who cares?


Here is the reflective section. Below, the first image, is (almost) the default position and lighting.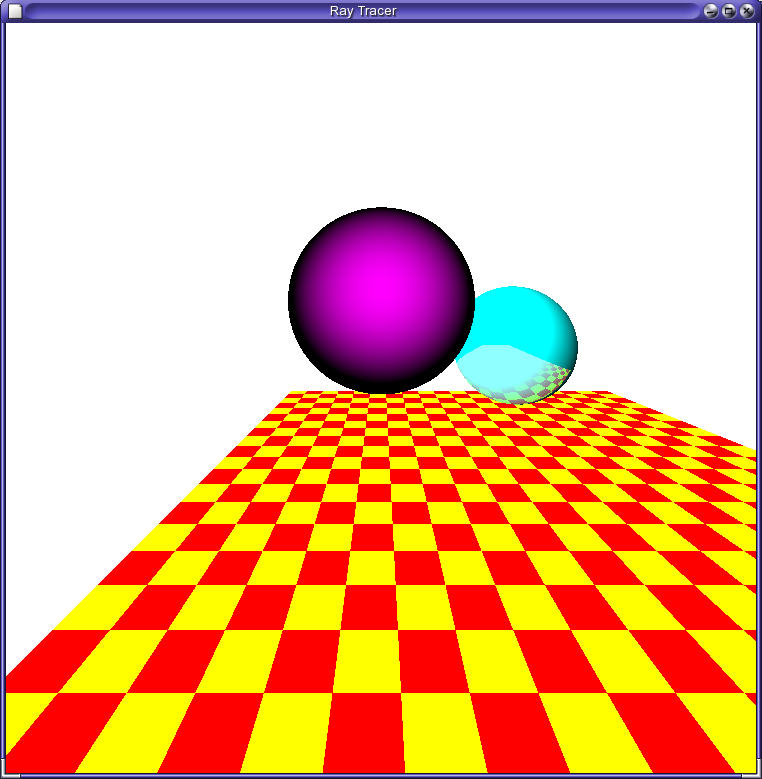 Below, I turned the light intensity to 0, so there's basically no phong illumination. The purple sphere is a black blob, and the other one is completely illuminated by reflection. Cheers.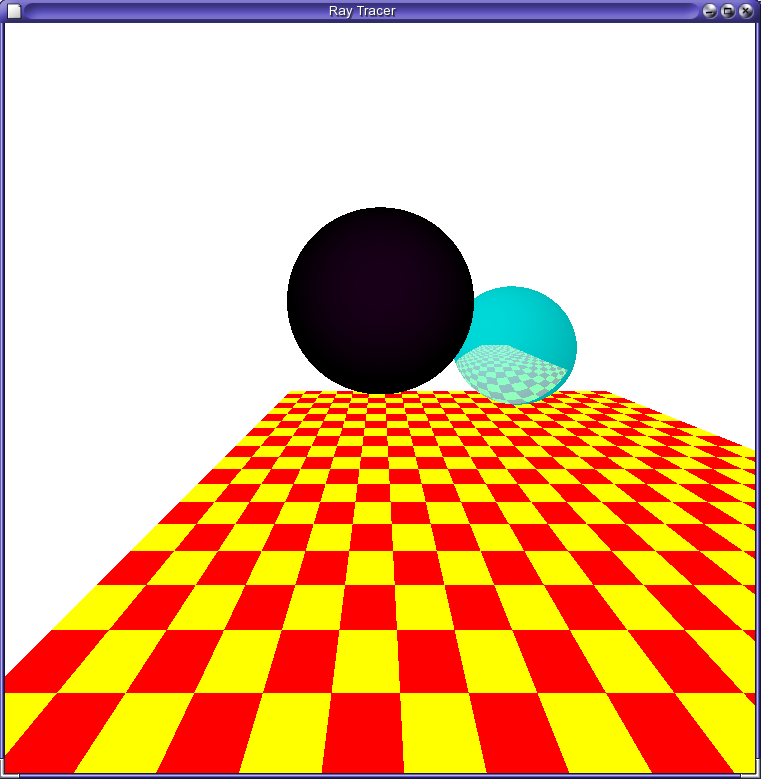 Now, with normal images out of the way, lets do something exotic, like negative black hole light sourcing and seeing what THIS does to the model :P


Awesome eh? But the one below is made of purified awesome, even if it is physically impossible. The position of the purple sphere's reflection is a bit odd, but I like how it came out regardless.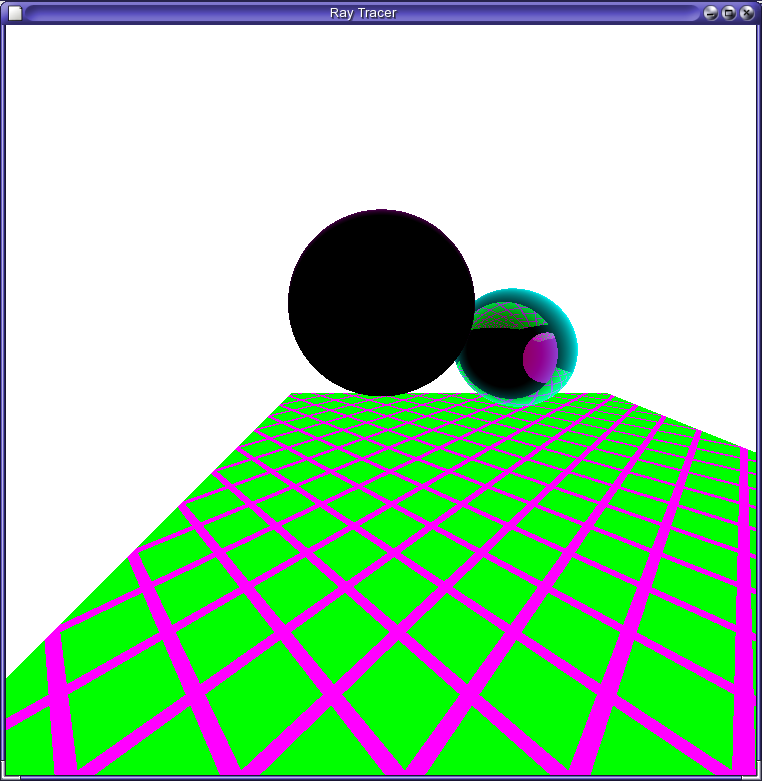 Personally, I'm not sure why this works... but eh, it does. Code for the refractive ray is a total mess though.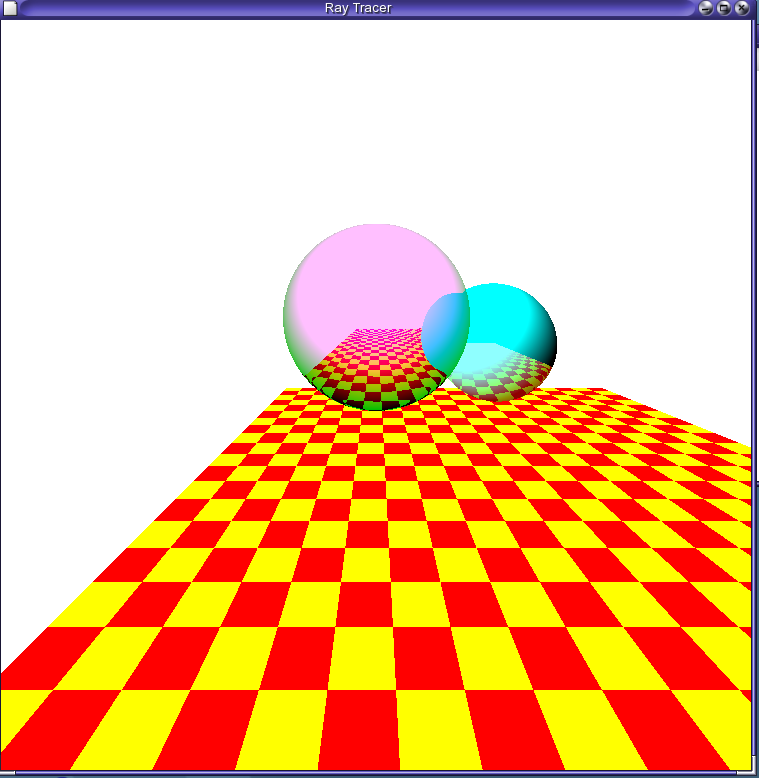 Here we have the tone reproduction. Lots of images here... blegh, lets start with the Ward.
Ward-1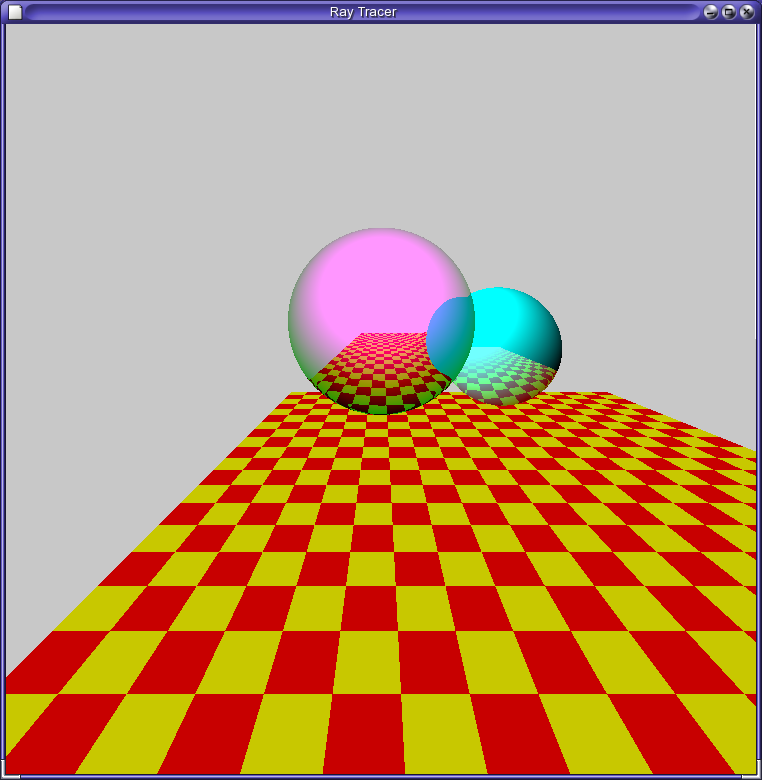 Ward-1000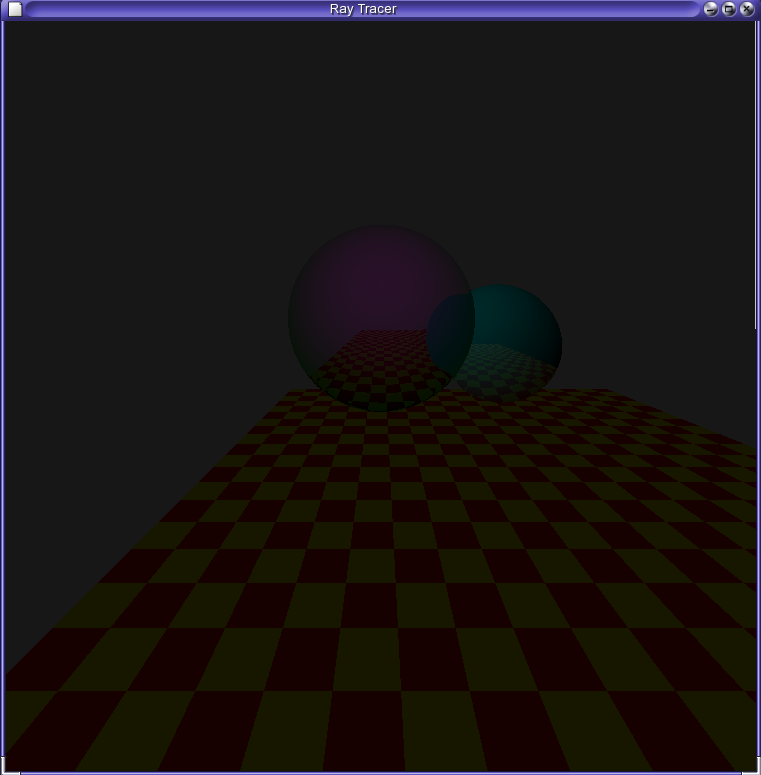 Ward-10000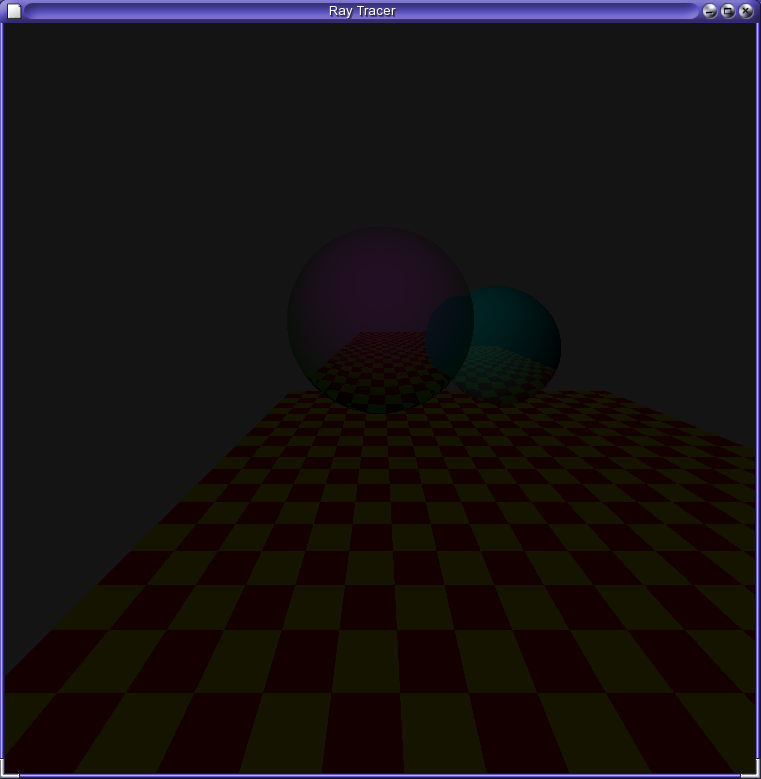 Now just for giggles, I decided to take Ward with LDmax 10 and .1. The images are below: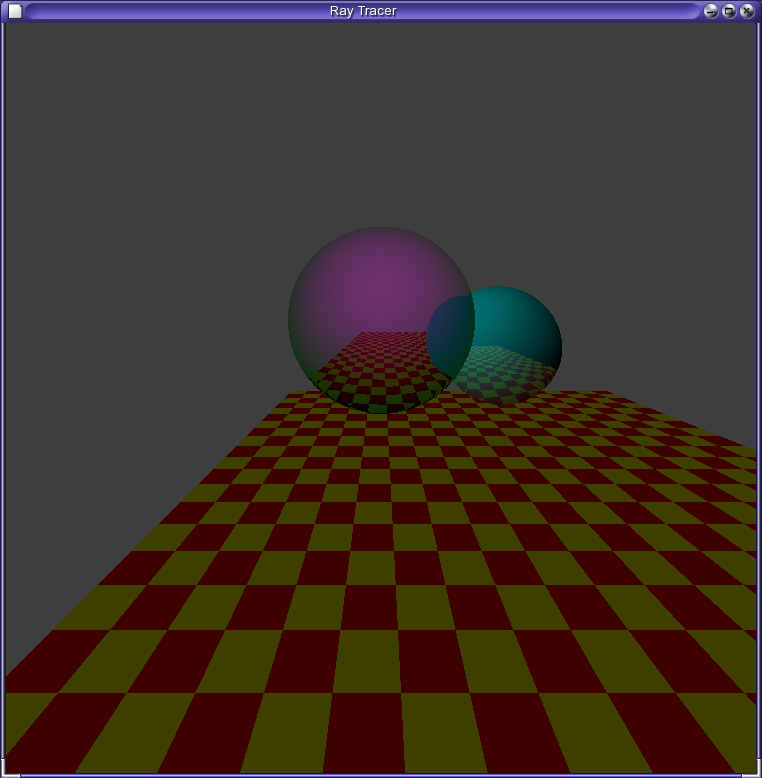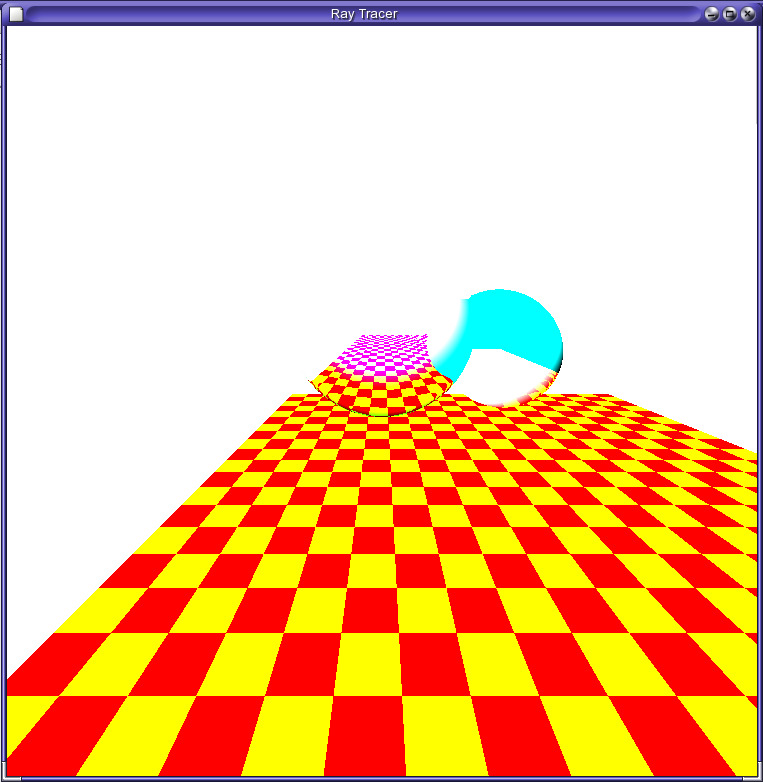 And now, we look at the Reinhard images, posted below.
Reinhard-1


Reinhard-1000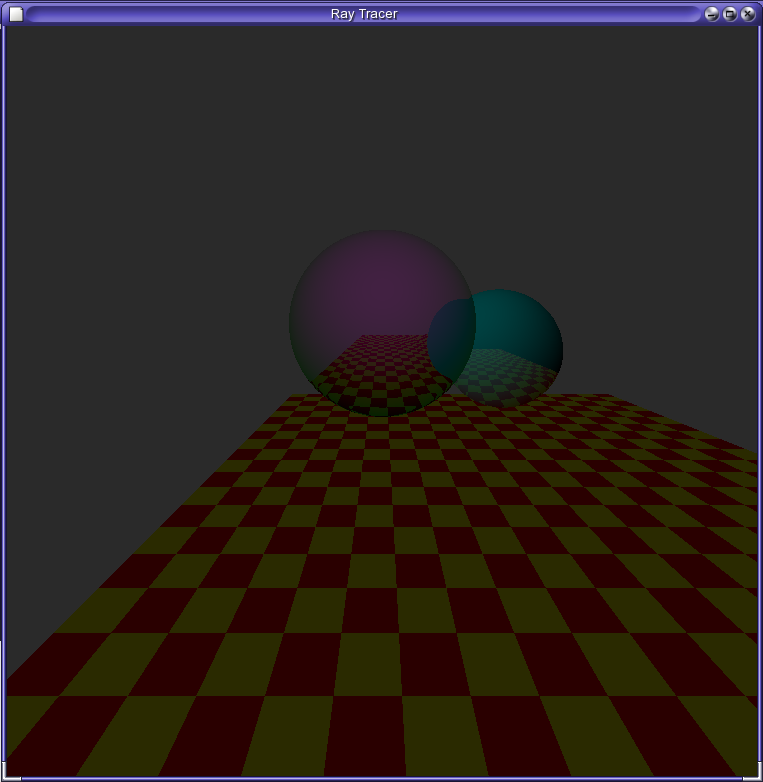 Reinhard-10000


You should notice a pattern here, they don't look different. However, below are some images I took changing the key value:
KV=.09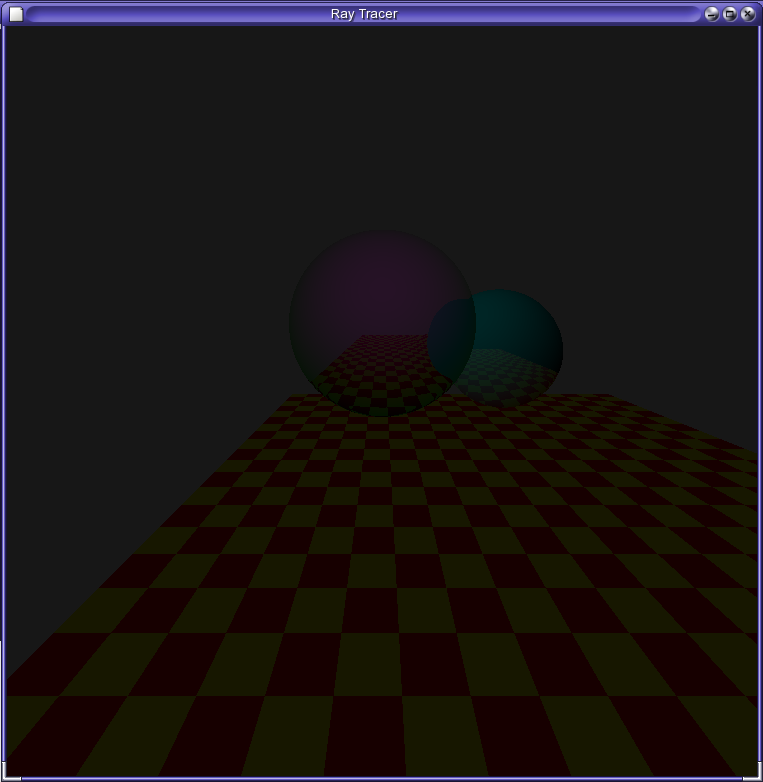 KV=.27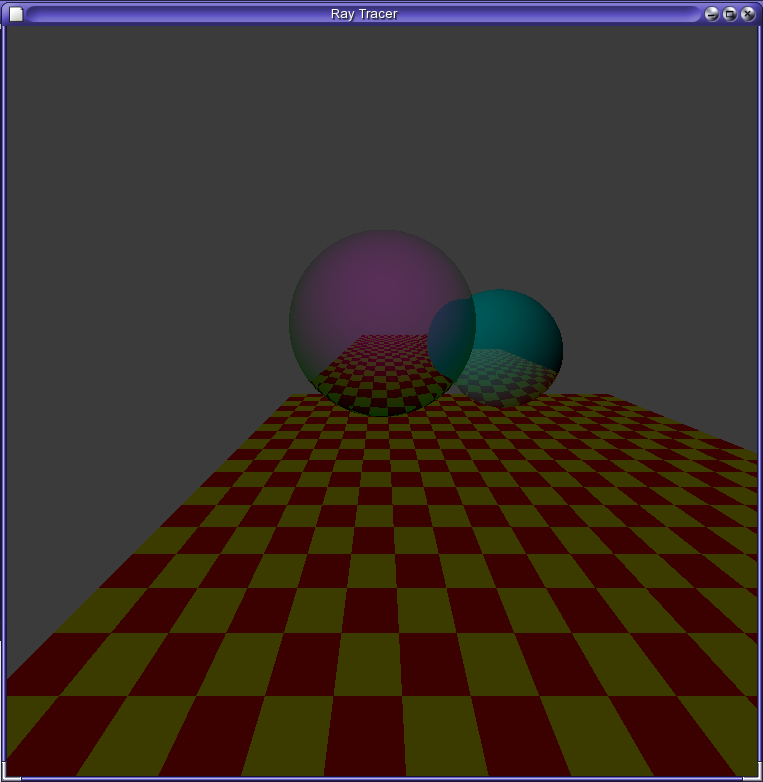 KV=.45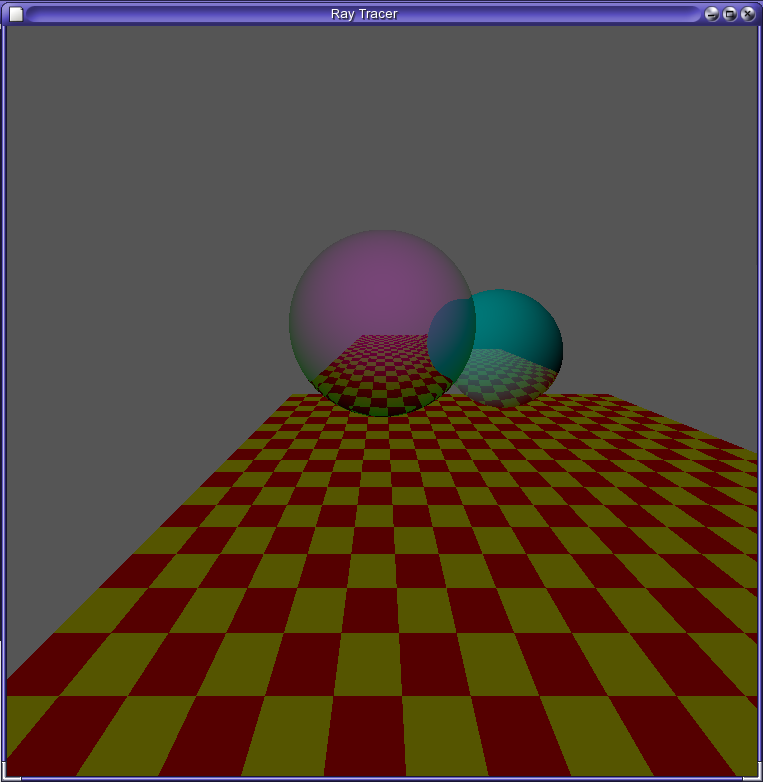 KV=3.5, wheirdness results


On a side note, these images don't work very well when negative light gets involved... hehehe...
Tone reproducer wans't working too great, so I made some tweaks. Here are the improved images. On a side note, you get some REALLY nice stuff with negative light. So, eh... try it out!. Oh, on a side note, the shadows on the floor are now working as well. Below, in order, are Ward: 1, 1000, 10000, and Reinhard 1, 1000, 10000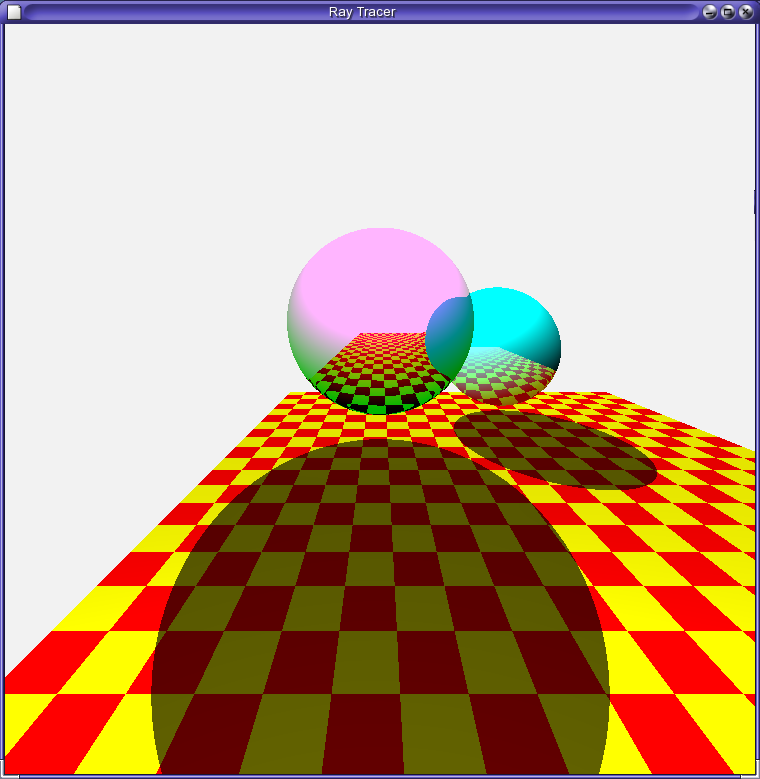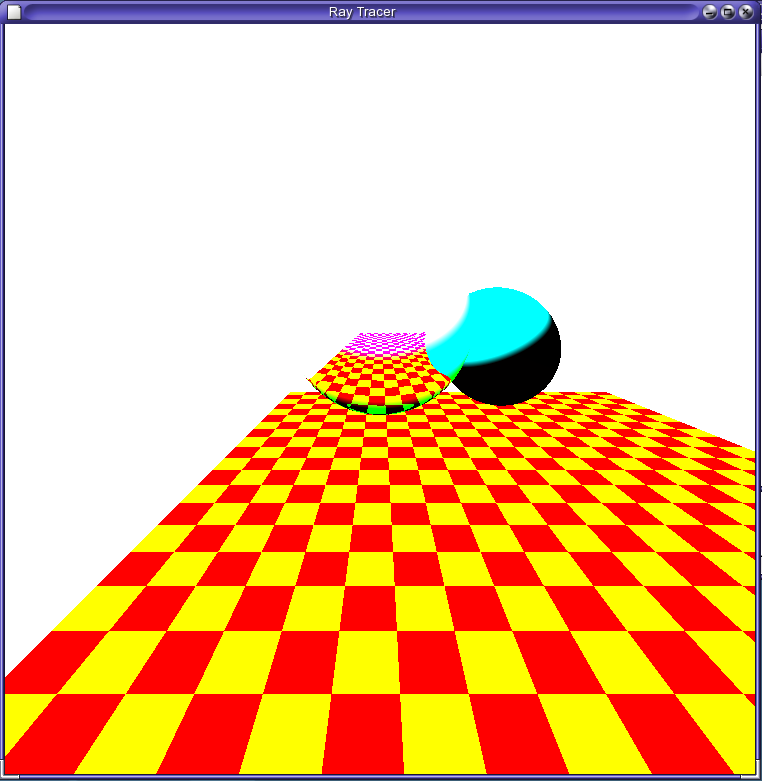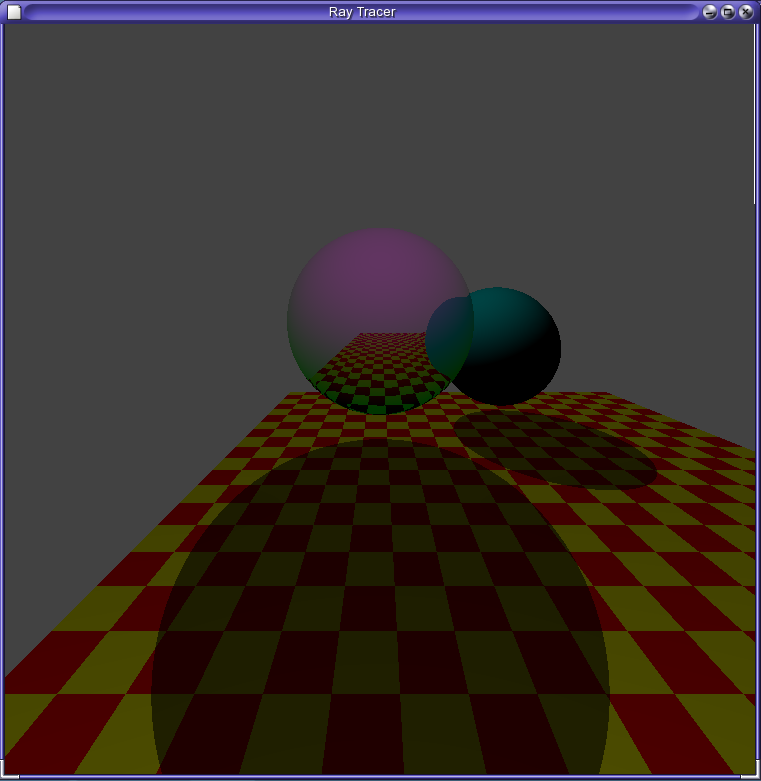 Aaand... just because I felt like it, negative light + Ward model.


Just don't ask what happens when I tried running Reinhard on it, uurgh.
So ya wanna make a renderman shader:
Below here is what I created when messing around with the parameters of the wood, plastic, and brick. Needless to say, it's quite a mess. It's how I roll, after all.


Now this is the other image, I think it came out nicely. Quite firey too...


And here is another, I think I'll use this for the contest:


Project:
Midterm images: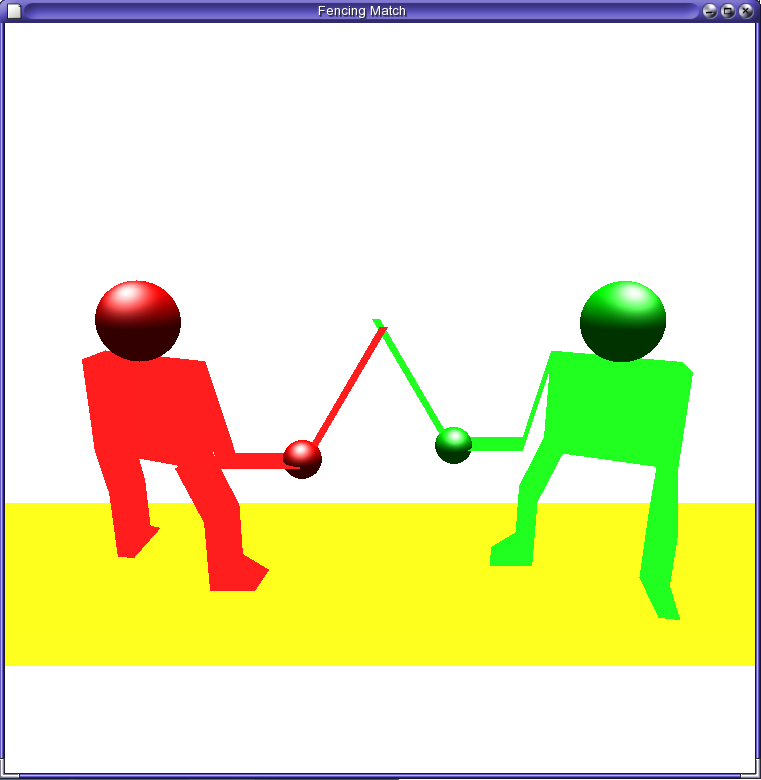 Those two really look like they're about to let loost on each other.


The green fencer's view of the upcoming duel. You can see the blade in front of you, and of course the red fencer who looks quite menacing with that blade pointed at your face...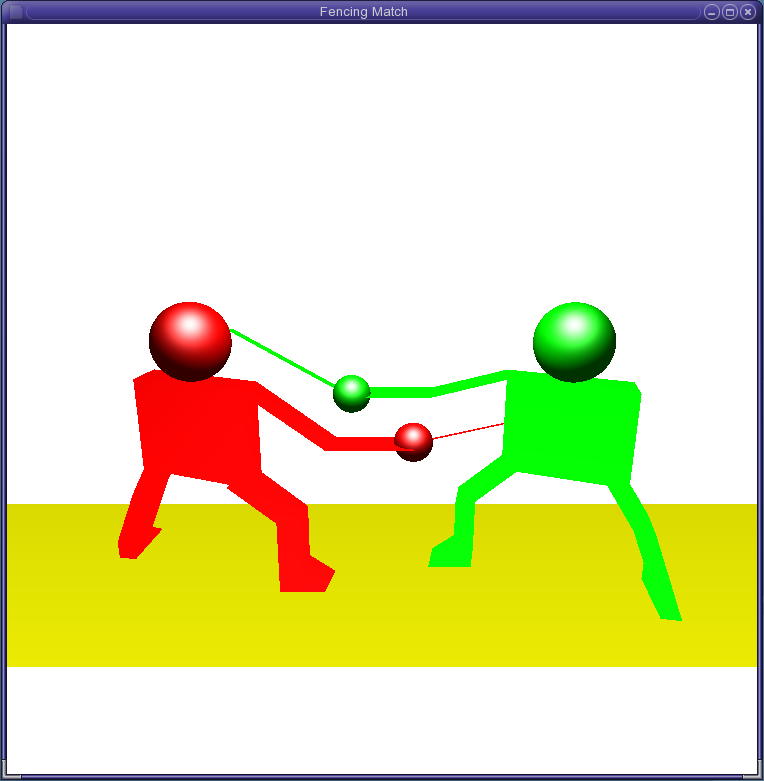 This is an image of the two fencers lunging at each other. The red one is doing a strike to flank while the green one is doing a strike to mask. Now that these key-frames are done, I'll work on the parries next.

Navigation Links: